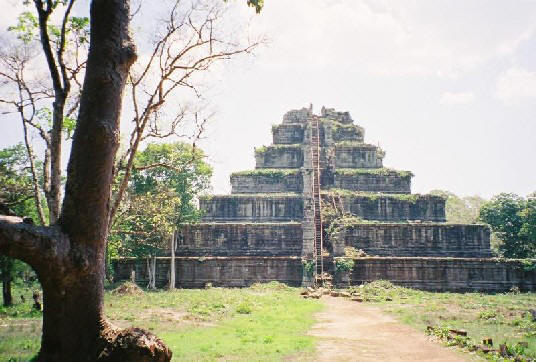 At 8am, transfer from your hotel to HC base camp and a brief of the tour. Guests travel through the Angkor Wat complex through the countryside, small villages, local wats and to near Beng Melea temple. Guests continue on to Svay Leu, 15kms away from Beng Melea to visit their small market. This marks the last location of a large village and a crossroads market. Beyond this is Hidden Cambodia.
As we travel to Koh Ker our guide will explain Kulen Mountain as we pass by the base of it, the complex of Koh Ker and its place in the ancient Cambodia empire, the number of temples to be found , the related symbolism and its history to date, including the French explorers, during the Khmer rouge to it present day protection under Apsara Authority, other wise know as the " Key to Angkor" Vehicle will drop guests at temples and continue to ready Koh Ker Jungle Lodge for lunch
Guests start their tour of Koh Ker with the palaces before entering and standing in front of Prasat Thom, the large pyramid temple. Travel onwards by car the visit Prasat 5 (5Temple), Prasat Chen (Chinese Temple) Prasat Kamou (Black Temple), Lingapura – the City of the Lingas, the haunting Elephant temple and host of other ancient temples before returning to Hidden Cambodia Lodge for a cooked lunch.
Following lunch, walk through Koh Ker Village and explain the houses, the community structure, the agri practices, the hunting tradition, the school, the history of the village and Hidden Cambodia's humanitarian projects based here for the last five years. Those on a " Pure Koh Ker Day" tour " will have time to explore more temples in the complex and more remote villages in the area. Guide will explain program that was carried out with Angkor Children's hospital.
Return to visit remaining temples and depart for Beng Meela temple . Drive through Seyiong to understand how Koh Ker is supplied via Kulen town and the provincial structure.
Guests travel on to Beng Melea to view this 11th century, deserted at this stage of the day. This is a very beautiful ruined temple with overhanging ferns. It was used as the hunting lodge off Angkor Wat and also as a resting location for Kings traveling for the old pre-angkorian capital, the Great Preah Khan, over 100km away from Beng Melea. Guests arrive back in good time, 5.00 - 5.30pm.