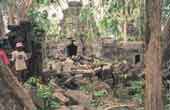 Banteay Chhmar
Location: This temple is located 61 km north of Sisophon on Route 69.
Road conditions: The road from Sisophon to Banteay Chhmar has been upgraded and provides relatively easy off- road riding and access by 4WD but up to date road conditions always needed to be checked prior to travel.
Drive time from Siem Reap: About 4/5 hours including a couple of stops. Best combined coming from Anlong Veng or Preah Vihear.
This enormous complex, which was a temple city, is one of the most intriguing in the Khmer empire, both for it's scale and it's remote location. Never excavated, Banteay Chhmar fits the picture of a lost Khmer city with its ruined face-towers, carvings, forest surroundings and bird life flying through the temple. It has a romantic and discovery feel to it. Few have seen it as it had been difficult to travel to this area because of past Khmer Rouge activity in the area.
Banteay Chhmar dates from the late 12th to the early 13th century and it means Narrow Fortress. It is thought to have been built by Jayarvarman II. It was later rebuilt by Jayarvarman VII as a funerary temple for his sons and four generals who had been killed in a battle repelling a Cham invasion in 1177.
Like Preah Kahn, Angkor Wat and Angkor Thom, Banteay Chhmar originally enclosed a city with the temple at the heart. No traces of the city that surrounded the temple remain. The temple area covers 2km by 2 .5 kms. It contains the main temple complex and a number of other religious structures and a baray to its east. A mote filled with water and a huge wall inside of that encloses the center of the temple. This mote is still used to present day by locals for fishing and daily chores. A bustling small market and village bounds the east and south east and perhaps there has been continuous habitation there since the founding of the temple.
Inside the mote, a stone rest house and chapel can be seen. The highlight of Banteay Chhmar is the bas-reliefs, which are comparable with the Bayon. They depict battle against the Chams, religious scenes and a host of daily activities. In parts, the outer wall has collapsed. On the west side a spectacular multi-armed Lekesvara can be seen. The temples central complex is a jumble of towers, galleries, vegetation and fallen stones. Beautiful carvings can be seen throughout.
Because of its proximity to Thailand, the temple has been plundered to a large extent, as recently as 1998. Some bas-relief has made its way to the best dealers in Bangkok but was rescued by Cambodian authorities. This temple offers an opportunity to understand the greatness of the Khmer empire and to see some of its hidden treasures.
Banteay Chhmar is still to a certain extent in a frontier location. Riel is accepted but a lot of dealing and purchase are done in Thai bath because of its location
Accommodation: Our first choice is a community eco tourism home stay . In Banteay Chhmar village itself, villagers have joined together to offer an exceptional overnight experience and facilities to visiting guests. project but there is no electricity after 10pm.
Other guest houses are in Banteay Chhmar and Sam Rong a short distance from the temple or in Osmacht for luxury and a night in a casino. I
See also our Banteay Chhmar photo gallery.