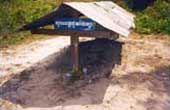 Anlong Veng
Location: Anlong Veng is located 125 km north of Siem Reap in Odar Meanchey province.
Road Conditions: Route 67 from Siem Reap to Anlong Veng were upgraded in order to open up this area and as a gesture of goodwill. The road is in good repair and the road to the Dangrek escarpment is paved.
Drive time from Siem Reap: About 3hours travel including a couple of stops.
Anlong Veng has a long history associated with the Khmer Rough and Pol Pot. It has been welcoming visitors and tourists for the past two years and a half with increasing numbers now seeking out this isolated place. This was the last stronghold of the Khmer Rouge where Pol Pot died. It is a very interesting ride, though the countryside, into little villages, through forested areas and rural Cambodia - and even a more interesting destination.
Anlong Veng had always been a Khmer Rouge stronghold. It became their last stronghold when Ieng Sary, Brother No. 2 and 10,0000 solders and civilians, based in Palin, defected to the government in August 1996. The hard liners including Ta Mok and Pol Pot made the Dangrek escarpment and the town of Anlong Veng their last headquarters and base. It is often referred to as their "jungle hideout". Ideally located on the border of Thailand and Cambodia, it allowed them easy access to Thailand and a safe, isolated spot. A little bit of reading up on the Khmer Rouge will help those traveling here to understand what they are seeing.
The town of Anlong Veng looks like any other rural town and holds a new monument built by Prime Minister Hun Sen as a present to the people and a gesture of goodwill. The road leading to the Dangrek escarpment was littered with tanks, testifying to bitter fighting in the last days as government forces advanced. They were removed in April of 2001 and can now be seen in the War Museum on Route 6 in Siem Reap.
The escarpment itself is located about 16km north of town and half way from the base to the summit there a large life size stone statue that marks an old KR checkpoint. It depicts armed KR solders in their uniforms, a stark reminder of where you are. The stature heads are no longer in place, having been shot off. There are numerous roads on the summit leading to different areas. Points of interest include Pol Pots house at the highest point. Now, only the foundations remain and a small underground bunker with sketchings of KR solders on the wall. A water reservoir lies behind it and sunning views over Odar Meanchey province. Pol Pot lived here.
In early June 1997, thing began to fall apart. Pol Pot ordered the killing of Son Sen, a KR leader, who he felt was working with the "Vietnamese". Altogether, Son Sen and thirteen other family members were murdered at his request. This angered many of the remaining KR and he was captured and tried by Ta Mok in the KR Headquarters or villa that can be seen in Anlong Town. He was charge with reason and found guilty. He was later put under house arrest and moved to smaller house. He lived there with his second wife and young daughter.
Pol Pot's health had been declining and he was now very frail and weak. Government forces had reached the base of Anlong Veng by March. On April 15th, 1998, Pol Pot died of natural causes. He was cremated on April 18th and his cremation site and grave can be seen. Anlong Veng fell shortly after that to the Government forces. HCDBT also visits the Thai / Cambodian Border crossing and the radio station which operated between 19973 up until recent days. In the town of Anlong Veng, the KR last headquarters, better known as "Ta Mok's Villa", is our last stop.
Ta Mok, who was awaiting trial in Phnom Penh died in the summer of 2007 and the new International border on the mountain has lured many newcomers to the area to do business.
Accommodation: We use two excellent concrete guesthouses in the town of Anlong Veng. Facilities as improved greatly over the last the years.
Food & Beverage: Truly excellent Cambodian food is served here in a longstanding established family restaurant.
See also our Anlong Veng photo gallery & and more recent trips in our galleries of photos
For more information on Anlong Veng, please visit The Anlong Veng project.
CNN has also got a newsmaker profile on Pol Pot - the former Cambodian Communist leader.